Windows Replacement And Installation
by Discount Windows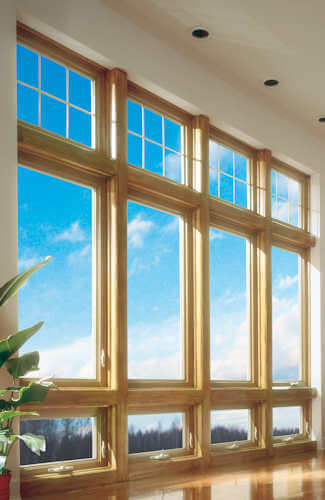 Replacing your windows is a great and easy way to create a new look for your home and is one the smartest decisions a home owner can make.
Each replacement window is custom ordered to your home's exact measurements, this will ensure the best fit and greatest energy efficiency.
With a variety of styles, colors, options and customizations, you can create a personal look to your home with windows that best match your needs and style. Your windows will help define the style of your home.
After your house is build, windows are the most important remodeling that can be done in a home to make it more energy efficient. There is no other part of your house that impact your electrical or heading bill like bad windows. So, a thing to consider is how much do you value your homes' energy efficiency.
So, let's start with the basics, the types of windows that are mostly used by builders and remodelers. Choose the window you want to know more about and click on the photo to get more details. The window styles can be ordered from any of the manufacturers with work with: Alside, Sunrise, Marvin, or Andersen.
OUR WINDOW SERVICES INCLUDE
Awning windows are attached at the top and open towards outside. This allows great ventilation even during rain. Awning windows are often used for privacy in bedrooms or in the basements.
Bay windows have 3 openings and are at an angled projection. The middle window is a picture window that lets you enjoy the view and bow windows ad a lot of light to a room.
Bow window is similar to a bay window, but is made up of four or more windows. It is usually larger than the bay window, hence it makes your room appear bigger and brighter.
Garden Window is a small green house in your home that has shelves and ventilation and is ideal for small plants and herbs. It also ads more light to a kitchen.
Casement windows are attached on the sides, and open just like a awning windows, outward. Great for ventilation since it fully opens, especially great for breezes moving along the side of your house.
Double Hung are great for energy efficiency plus they offer a lot of viewing area. Double hung windows can be raised from the bottom or lowered from the top and are great for noise reduction.
Sliding windows can be much bigger than the double hung windows, so they will provide more view. They are also the easiest window to operate, low maintenance required and are great for energy efficiency.
Hopper windows are similar to casement since they are connected on a hinge, but they open differently, inside the home and downward. Hopper windows are great for basements and are used for ventilation.
Picture windows are all about looking at a great view outside. Great looking yard or forest, a lake or mountain, nothing will let you admire these things better than a picture window. Picture window turn outside into pictures.