Small budget keeping you from getting what you really want or need?
Promotional financing options can help you get what you really want!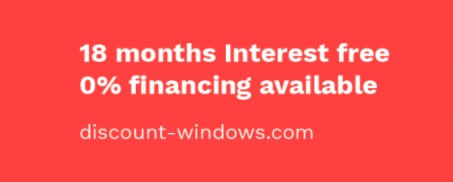 Secure & quick application process
A simple 5 minute application process and a fast credit decision.
PAYMENT OPTIONS
Convenient and easy payment options - 12 or 18 months. On-line account management.
0% INTEREST RATE
Discount Windows can offer you a interest free 0% financing for 12 or 18 months.
CREDIT LINES
Unsecured, revolving credit lines. Open credit line for future purchases.
18 Months Interest Free 0% Financing
Discount Windows proudly offers financing options through the Home Design credit card is issued by Synchrony Bank, allowing you to start on your project right away. As a Home Design credit card holder, you'll be able to enjoy benefits like convenient monthly payments, a revolving line of credit for all of your purchasing needs and an easy to use online bill payment option.
Secure financing application process
The application is done on the Synchrony Bank's website, which uses the most up-to-date online security features to protect your information. You'll receive a decision regarding your application within minutes, and you'll be ready to set up an appointment to begin your home improvement project. Or, you can apply for special financing during your in-home estimate.
Apply today to pave the way for your home improvement!